The history of KHMG
The congregation of Harvest Baptist Church, under the leadership of Dr. John Lewis, had a vision for Christian radio. In December of 1994, with the help of radio engineer and church member Butch McBride, an FCC license and construction permit were obtained for an educational FM station at 88.1 on the dial. The goal of the station would be to minister to the hearts and souls of families on Guam with Bible-based programming and conservative Christian music. After years of prayer and preparation, KHMG signed on the air for the first time at 4:00 PM on Tuesday, March 26, 1996.
Call Letters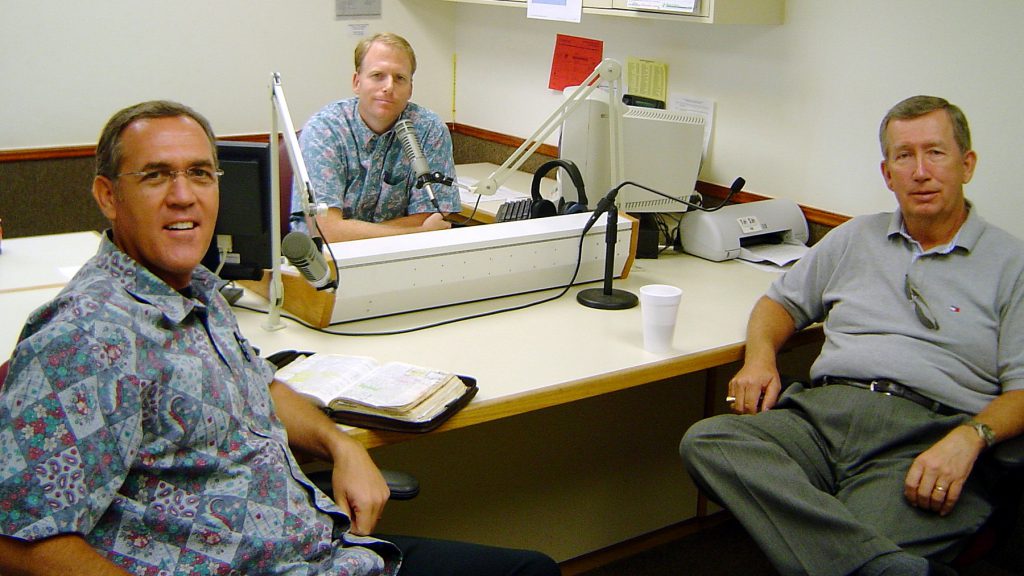 After exploring the possibility of obtaining KHBC (for Harvest Baptist Church) or KHCA (for Harvest Christian Academy), the church settled on  KHMG (for Harvest Ministries, Guam), receiving permission from a military vessel that had previously used the call letters.
Equipment and Facilities
Pastor John Lewis traveled to Seattle, Washington to visit RF Specialties, as transmitter equipment, software, and supplies were ordered to set up studios for live broadcast and production.
Construction was initiated by Harmon Corporation and a third-floor storage room was chosen for conversion into a new, air-conditioned, state-of-the-art radio facility.
Staff and Programming
John Collier, a former Recording Technician for WPCS (now Rejoice Radio) in Pensacola, Florida was hired. He was scheduled to arrive on Guam in August of 1995 and would help in setup and day to day operations. His first task was to arrange the arrival of all equipment and to obtain, organize, and prepare music and programming for air.
Transmitter Site
A 20-year lease arrangement was made with KSTO and Ed Poppe. KHMG would share a transmitter site in Barrigada Heights and rent space on a tower in the same location. After Butch McBride moved off-island, Dean Reed was hired to help in construction, oversight, and maintenance of all broadcast equipment.
Getting Started

After many delays, the container of equipment arrived on Guam in February of 1996. Studios were not yet finished, so the equipment was unloaded and set up for temporary testing in the Harvest Baptist Bible Institute chapel building's recreation room. (The building was damaged by Typhoon Pongsona and eventually torn down.)
Sign On
Finally, the testing was finished, the automation system was running, and 4:00 pm arrived on Tuesday, March 26, 1996. Pastor Lewis turned on the transmitter and John Collier aired his recorded announcement:
"This is KHMG, 88.1 on your FM dial. KHMG is a ministry of Harvest Baptist Church. I'm Pastor John Lewis and today we begin our on-air testing for what will eventually be twenty-four hour a day inspirational music and family-related programming. After many months of planning and preparation, we are now ready to go on the air and we think of our purpose. Our purpose is well stated by the Apostle Paul in the book of Ephesians, chapter 1 and verse 6. Where Paul said 'to the praise of the glory of His grace' and certainly that summarizes our purpose for existing. The Psalmist David said in Psalm 19 and verse 14, 'Let the words of my mouth and the meditation of my heart be acceptable in thy sight O Lord, my Strength and my Redeemer. And certainly our desire is that the words of our mouth and the mediation of our heart be acceptable in God's sight."
The entire church had a part in the very first broadcast, as a recording of the congregation singing To God Be the Glory aired immediately after. Pastor Lewis closed out the sign-on with a prayer of dedication.
24 Hours
The broadcast day was only four hours long in those first few weeks. Most of the hours were filled with Christian music. Eventually, air times were expanded, 6:00 am to 11:00 pm, then 5:00 am to midnight daily.
On its first anniversary, KHMG began 24-hour broadcasting every day.
Growth and expansion
Harvest Family Radio has been a consistent servant to listeners on Guam. We continue to air sound Bible teaching and Christ-honoring music, as well as weather, news, and public service programs.
The vision of Harvest Baptist Church in those early years has been blessed by God. To Him be all the glory!