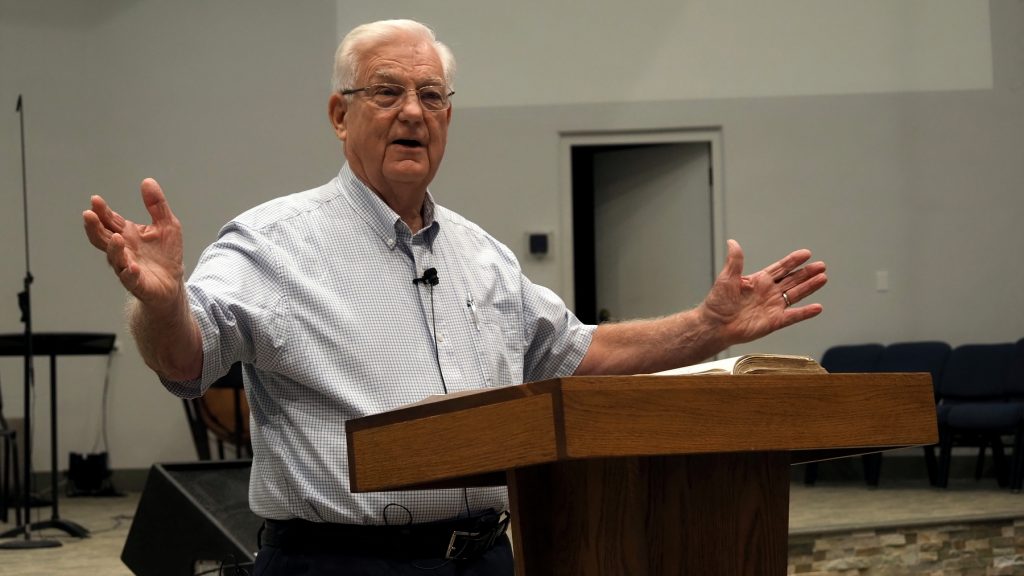 Building Great Leaders
Dr. Les Ollila is our speaker on this 30-minute program heard weekdays at 11:30am and 7:30pm.
Building Great Leaders provides instruction, encouragement and resources for Christian leaders. One of its primary missions is to produce effective servant-leaders with hands of skill, hearts for God, and a commitment to serving others.
Recent Programs
The latest programs are listed first. To download, right click on the file name and "Save link as" or "Save file as."
---
You can search by sermon title, speaker, topic, or book of the Bible. Just click on the title to listen or download.
| Title | Speaker | Topic | Scripture |
| --- | --- | --- | --- |
| Knowledge | Dr. Les Ollila | Relationships, Power, Fruit | 1 Corinthians |
| Jealousy | Dr. Les Ollila | Pride, Fellowship | 1 Corinthians |
| Marathon Mindset | Dr. Les Ollila | Commitment, Vision, Endurance | 1 Corinthians |
| The Resurrection | Dr. Les Ollila | Resurrection, Evidence | 1 Corinthians |
| Laborers Together | Dr. Les Ollila | Unity, | 1 Corinthians |
| Overcoming Hindrances Part 2 | Dr. Les Ollila | Love, Authority | 1 Corinthians |
| Overcoming Hindrances Part 1 | Dr. Les Ollila | Paul, Authority | 1 Corinthians |
| Dealing With Differences | Dr. Les Ollila | Paul, Unity | 1 Corinthians, Acts |
| Principles in Ministry Part 2 | Dr. Les Ollila | Principles, Convictions, Purpose | 1 Corinthians, Genesis |
| Principles in Ministry Part 1 | Dr. Les Ollila | Principles, Convictions, Purpose | 1 Corinthians, Genesis |
| Making Right Choices | Dr. Les Ollila | Focus, Flesh | 1 John |
| Love | Dr. Les Ollila | Relationship, Sacrifice | 1 John |
| The Happy Servant | Dr. Les Ollila | Solomon, Service | 1 Kings |
| The Happy Servant | Dr. Les Ollila | Contentment, Leadership | 1 Kings |
| The Spirit-filled Wife | Dr. Les Ollila | Submission, Relationships | 1 Peter |
| Living Faithfully to Life's End | Dr. Les Ollila | Faithfulness | 1 Peter |
| Spirit Filled Men and Women Part 2 | Dr. Les Ollila | Marriage, Testimony | 1 Peter |
| Spirit Filled Men and Women Part 1 | Dr. Les Ollila | Marriage, Parenting, Relationships | 1 Peter, Genesis |
| David's Shifting Confidence | Dr. Les Ollila | David, Unfaithfulness | 1 Samuel |
| In Everything Give Thanks | Dr. Les Ollila | Prayer, Thankfulness | 1 Thessaloniains |
| Gifted for the Ministry | Dr. Les Ollila | Discourament, Perseverance | 2 Corinthians |
| How to Produce a Biblical Worldview | Dr. Les Ollila | Worldview, Disciplship | 2 Corinthians |
| The Grace of God is Sufficient | Dr. Les Ollila | Paul, Apostleship, Suffering | 2 Corinthians |
| The Judgment Seat | Dr. Les Ollila | Incarnation, Death | 2 Corinthians |
| Laboring to be Accepted Part 2 | Dr. Les Ollila | Paul, Motives, Sanctification | 2 Corinthians |
| Laboring to be Accepted Part 1 | Dr. Les Ollila | Paul, Salvation | 2 Corinthians |
| The Ministry of Paul | Dr. Les Ollila | Reconciliation, Motives | 2 Corinthians |
| Spiritual Brokenness | Dr. Les Ollila | Santification, Discipleship | 2 Corinthians |
| Living in Light of the Bema | Dr. Les Ollila | Judgment, Works | 2 Corinthians, 1 Corinthians |
| What Makes a Total Marriage | Dr. Les Ollila | Immorality, Commitment | 2 Corinthians, 1 Thessilonians |
| View of God | Dr. Les Ollila | Salvation, Relationships | 2 Corinthians, Romans |
| How to Pray for Missionaries | Dr. Les Ollila | Paul, Prayer, Encouragement | 2 Corinthians, Romans |
| Life Touching Life | Dr. Les Ollila | Elisha, Discipleship | 2 Kings |
| Steps to Spiritual Maturity | Dr. Les Ollila | Change, Growth | 2 Peter |
| The Purpose of Youth Work | Dr. Les Ollila | Discipleship, Discipline | 2 Peter |
| Bitterness - Shimei | Dr. Les Ollila | Authority, Choices, Jealousy | 2 Samuel |
| Being a Good Soldier | Dr. Les Ollila | Discipleship, Faithfulness | 2 Timothy |
| Fear | Dr. Les Ollila | Paul, Timothy, encouragemnet | 2 Timothy |
| The Secure Leader | Dr. Les Ollila | Security | 2 Timothy |
| Understanding Our Mission Part 2 | Dr. Les Ollila | Purpose, Discipleship | 2 Timothy |
| Understanding Our Mission Part 1 | Dr. Les Ollila | Stewardship, Purpose | 2 Timothy |
| The Uniqueness of Christ | Dr. Les Ollila | Salvation, Wolrdview | Acts |
| Jesus Christ | Dr. Les Ollila | Salvation, Holiness | Acts |
| Acts 3 | Dr. Les Ollila | Holiness, Justification | Acts |
| Storms | Dr. Les Ollila | Paul, Providence, Trust | Acts |
| Adding to Your Faith | Dr. Les Ollila | Purpose, Motivation | Acts |
| Perservering Through Difficulties | Dr. Les Ollila | Missions, Discouragement, Evangelism | Acts |
| The Only Way of Salvation | Dr. Les Ollila | Salvation, Power | Acts |
| Philip the Soul Winner | Dr. Les Ollila | Evangelism, Surrender, Transformation | Acts |
| The Church | Dr. Les Ollila | Church, Ordinances, Doctrine | Acts |
| Prayer | Dr. Les Ollila | Prayer, Friendship, Paul | Colossians |
| The Greatness of Our God | Dr. Les Ollila | Power, Prayer, Paul | Ephesians |
| The Spirit of Marriage | Dr. Les Ollila | Marriage, Unity, Submission | Ephesians |
| The Power of God | Dr. Les Ollila | Prayer, Power | Ephesians |
| Having A Christian Perspective | Dr. Les Ollila | Focus, Trinity, Glory, Power | Ephesians |
| God's Power in Our Lives | Dr. Les Ollila | Gospel, Santification | Ephesians |
| Growing the Church in Christ | Dr. Les Ollila | Glory, Gospel, Prayer | Ephesians |
| Think on These Things | Dr. Les Ollila | Power, Reserection, Church | Ephesians, 1 Corinthians |
| Music | Dr. Les Ollila | Deference, Worship | Ezekiel, Daniel |
| The Freshness of Fellowship | Dr. Les Ollila | Compromise, Repentance, Pride | Ezra |
| The Fruit of the Spirit | Dr. Les Ollila | Power, Works | Galatians |
| No Other Gospel | Dr. Les Ollila | Grace, Works | Galatians |
| The Result of Motive | Dr. Les Ollila | Paul, Attitude | Galatians |
| Thanksgiving in Trials | Dr. Les Ollila | Praise, Testing, Sanctification | Galatians, Ephesians |
| Living With Afterward in Mind | Dr. Les Ollila | Repentance, Esau, Bitterness | Genesis |
| Marriage in Genesis | Dr. Les Ollila | Marriage, Love, Relationships | Genesis |
| The Household of Faith | Dr. Les Ollila | Relationships | Genesis |
| 5 Keys to Communication | Dr. Les Ollila | Communication, Relationships, Marriage | Genesis |
| Tools That Build Relationships | Dr. Les Ollila | Marriage | Genesis |
| Lessons From Lot | Dr. Les Ollila | Lot, Worldliness | Genesis |
| Joseph's Dream | Dr. Les Ollila | Joseph, Surrender | Genesis |
| Raising Children With Conviction | Dr. Les Ollila | Training, Discipline | Genesis |
| Abraham: the Path To Faith | Dr. Les Ollila | Faith, Obedience | Genesis |
| How Does A Dream Become Reality | Dr. Les Ollila | Joseph, Contentment | Genesis |
| What Matters Most | Dr. Les Ollila | Priorities, Relationships | Genesis |
| The Glory of God in Us | Dr. Les Ollila | Relationships, Fall, Creation | Genesis |
| Living Your Dream | Dr. Les Ollila | Joseph, Conviction, Faithfulness | Genesis |
| The Life of Faith | Dr. Les Ollila | Abraham, Sacrifice, Following | Genesis |
| Lessons from a Caveman | Dr. Les Ollila | Lot, Compromise, Character | Genesis |
| Biblical Separation | Dr. Les Ollila | Separation, Obedience | Genesis, 1 Corinthians |
| Biblical Manhood | Dr. Les Ollila | Worldview, Evolution | Genesis, Daniel |
| Blessings In Protection | Dr. Les Ollila | Obedience, Judgment | Genesis, Deuturonomy, Amos |
| The Spirit Filled Family | Dr. Les Ollila | Relationships, Growth, Roles | Genesis, Ephesians |
| Embrace Your Mission | Dr. Les Ollila | Idolatry, Glory, Holiness | Genesis, Ezekial, John |
| Knowing God | Dr. Les Ollila | Compassion, Motives, Theology | Genesis, Jeremiah |
| Habakkuk | Dr. Les Ollila | Prayer, Sovereignty | Habakkuk |
| Afterward: The Life of Esau | Dr. Les Ollila | Esau, Repentance | Hebrews |
| Balance in the Christian Life | Dr. Les Ollila | Faith, Israel | Hebrews |
| The Essence of Faith | Dr. Les Ollila | Enoch, Faithfulness, Lifestyle | Hebrews |
| Winning the Race | Dr. Les Ollila | Endurance, Discipline | Hebrews |
| Staying Faithful | Dr. Les Ollila | Focus, Humility, Repentance | Hosea |
| The Three Powers of the Tongue | Dr. Les Ollila | Obedience, Speech | James |
| A Single Focus | Dr. Les Ollila | Stability | James |
| The Danger of Aloneness | Dr. Les Ollila | Accountibility, Integrity | James |
| The Potter's House | Dr. Les Ollila | Obedience, Omnipotent | Jeremiah |
| Embracing Your Mission Part 2 | Dr. Les Ollila | Sacrifice, Santification | John |
| Embracing Your Mission Part 1 | Dr. Les Ollila | Trinity, Glory | John |
| The Believers Relation to the World Part 2 | Dr. Les Ollila | Salvation, Prayer, Light | John |
| The Believers Relation to the World Part 1 | Dr. Les Ollila | Salvation, Witnessing, Sactification | John |
| The Crucifixion | Dr. Les Ollila | Crucifixion | John |
| Assurance of Salvation | Dr. Les Ollila | Security | John |
| Security in Your View of God | Dr. Les Ollila | Assurance, Salvation | John |
| The Presence of God | Dr. Les Ollila | Omnipresence | Jonah |
| Devastating Consequences of Hidden Sin | Dr. Les Ollila | Disobedience, Repentance | Joshua |
| The Story of Gideon | Dr. Les Ollila | Courage, Forgetful, Mind | Judges |
| Two Questions of Life | Dr. Les Ollila | Gideon, Obedience, Faith | Judges |
| Samson: The Cost of a Haircut | Dr. Les Ollila | Disobedience | Judges |
| The Holy Spirit in the Christmas Story | Dr. Les Ollila, Chris Harper | Incarnation, John | Luke |
| Business Lessons from the Unjust Steward | Dr. Les Ollila | Stewardship, Money | Luke |
| Why We Are Here | Dr. Les Ollila | Hell, Salvation | Luke |
| Living in Broken Ground | Dr. Les Ollila | Parrable, Sower | Luke |
| Be An Encourager | Dr. Les Ollila | Encouragement, Communication | Luke |
| Living in Balance | Dr. Les Ollila | Discipleship | Luke |
| True Discipleship | Dr. Les Ollila | Discipline, Sacrifice | Luke |
| Critical Thinking | Dr. Les Ollila | Prayer | Luke, 2 Peter |
| You Cannot Be My Disciple | Dr. Les Ollila | Discipleship | Luke, John |
| The Maniac of Gadara | Dr. Les Ollila | Salvation, Transformation | Mark |
| The Three Threes of the Christmas Story | Dr. Les Ollila, Chris Harper | Incarnation, Worship | Matthew |
| Having Good Courage | Dr. Les Ollila | Compassion, Disciples | Matthew |
| Worship in Your Life | Dr. Les Ollila | Idols, Ministry, Priorities, Surrender | Matthew |
| Revival | Dr. Les Ollila | Obedience, Ezra, Heart | Nehemiah |
| The Importance of God's Word | Dr. Les Ollila | Scripture, Ezra, Preaching | Nehemiah, Ezra |
| Lesson On Anger Part 2 | Dr. Les Ollila | Impatience, Relationships, Focus | Numbers |
| Lesson On Anger Part 1 | Dr. Les Ollila | Relationships, Wrath | Numbers |
| A Good Legacy Does Not Guarantee a Good Future | Dr. Les Ollila | Ephriam, Compromise | Paslms |
| God's Guidance | Dr. Les Ollila | Peter, Confidence | Philipians |
| Where Your Confidence Lies | Dr. Les Ollila | Paul, Following Calling | Philipians, 1 Corinthians |
| Doing All Through Christ | Dr. Les Ollila | Stephen, Purpose, Paul | Philipians, Acts |
| Service | Dr. Les Ollila | Work, Faith | Philippians, 1 Thessalonians |
| The Four Necessary Ingredients for Life | Dr. Les Ollila | Wisdom, Knowledge, Understanding | Proverbs |
| Three Types Who Reject Wisdom | Dr. Les Ollila | Wisdom, Foolishness | Proverbs |
| An Uplook For the Downcast | Dr. Les Ollila | Focus, David, Meditation | Psalm |
| Dealing with Discouragement | Dr. Les Ollila | Discouragement, Focus, Selishness | Psalms |
| The Successful Servant | Dr. Les Ollila | Blessedness, Worldliness | Psalms |
| From Theocracy to Atheism | Dr. Les Ollila | Theism, Compromise, Atheism | Psalms |
| Teaching Teens Prayer | Dr. Les Ollila | Faithfulness, Youth | Psalms |
| Finding Satisfaction in Christ | Dr. Les Ollila | Asaph, Disobedience, Perseverence | Psalms |
| The Blessable Servant | Dr. Les Ollila | Godliness Fool | Psalms |
| Covenants for the Leader | Dr. Les Ollila | David, Will, Noah | Psalms |
| When Normal is Gone | Dr. Les Ollila | Aspah, Depression, Focus | Psalms |
| Surrender and Separation | Dr. Les Ollila | Envy, Faithfulness | Psalms |
| Focusing Our Attention Outward | Dr. Les Ollila | Asaph, Depression | Psalms |
| The Cowardly Ephraimites | Dr. Les Ollila | Carnality, Faithfulness, Obedience | Psalms |
| True Greatness | Dr. Les Ollila | Faithfulness, Contentment | Psalms, Acts |
| Directing Your Time | Dr. Les Ollila | Priorities | Pslams |
| The Christian Perspective on War | Dr. Les Ollila | War, Government, Daniel | Romans |
| World Views Part 2 | Dr. Les Ollila | Idols, Theism | Romans |
| World Views Part 1 | Dr. Les Ollila | Truth. Humanism | Romans |
| Christians in Today's Culture | Dr. Les Ollila | Paul, Discipleship, accountability | Romans |
| Wake Up and Die Right | Dr. Les Ollila | Thinking, Eternity | Romans |
| No Doubt | Dr. Les Ollila | Judgment, Paul | Romans, Revelation |
| Bitterness - Ruth | Dr. Les Ollila | Naomi, Bitterness | Ruth |