Subscribe, play, or download
We provide two primary podcast feeds. The first is updated weekly with our latest original programs, including Harvest Time. It also features recently added or updated episodes of Building Great Leaders and Harvest Echoes.
The other is released on Wednesday and Friday at 6:00 PM, just after Take Note live concludes. The Take Note Podcast features a ten-minute recap of two favorite episodes from the previous week, minus the music.
KHMG Station Manager, Christopher Harper also releases a 90-second audio devotional every day via podcast.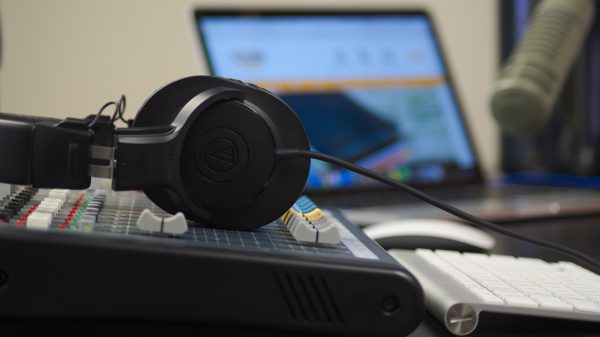 Search our audio archive
We provide hundreds of MP3 downloads from our local, original program selection. These are not published by means of podcast, but can be played or downloaded from our audio archive.
You can search for files by program title, speaker, topic, or passage of scripture.
Latest: Harvest Family Radio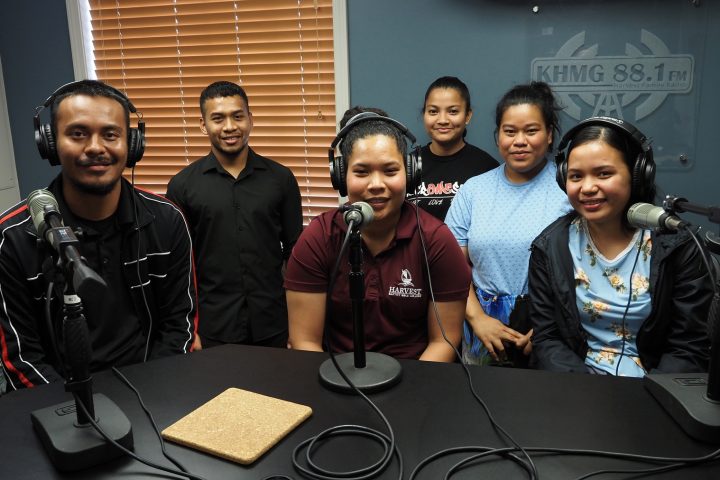 Pastor Walton is joined this week by six students from our 2022 graduating class at Harvest Baptist Bible College.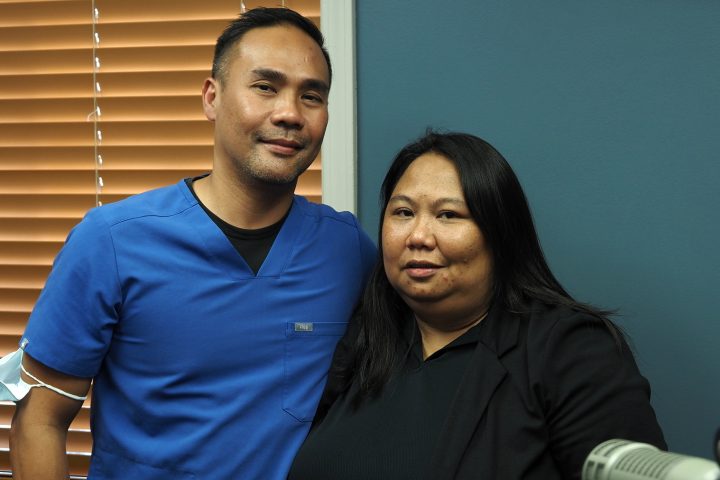 Pastor Walton is joined by Nino and Michelle Matias this week to discuss their joy in serving Christ and inviting others to know Him.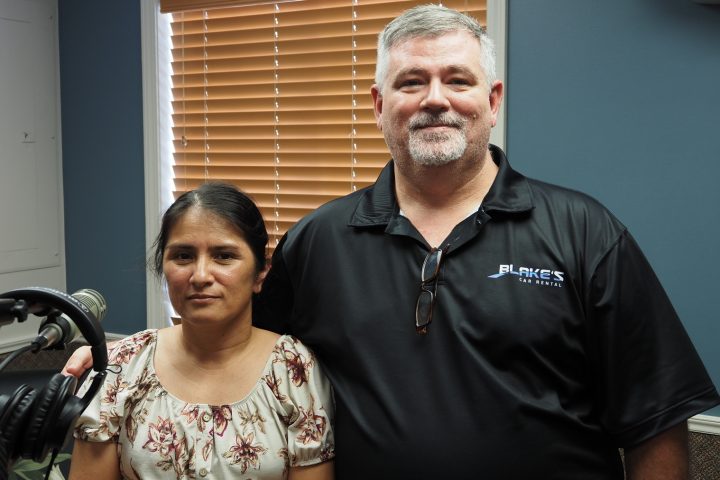 Rich and Lisa Kuntz spoke with Pastor Walton this week about their relationship, journey to Guam, and involvement in ministry through the years.
Search the archive
| Title | Speaker | Topic | Scripture |
| --- | --- | --- | --- |
| Marathon Mindset | Dr. Les Ollila | Commitment, Vision, Endurance | 1 Corinthians |
| Marks of Wisdom in a Godly Man | Dr. Doug McLachlan | Compassion, Courage | 1 Corinthians |
| Gideon | Brian Carruthers | Faith, Gideon | 1 Corinthians |
| Build a Glory Driven Life | Sam Horn | Glory, Mission | 1 Corinthians |
| Overcoming Hindrances Part 2 | Dr. Les Ollila | Love, Authority | 1 Corinthians |
| Overcoming Hindrances Part 1 | Dr. Les Ollila | Paul, Authority | 1 Corinthians |
| Jealousy | Dr. Les Ollila | Pride, Fellowship | 1 Corinthians |
| What Right Does God Have to My Body? | Tom Farrell | Purity, Creation, Surrender | 1 Corinthians |
| Greatness of Christian Redemption | Dr. Doug McLachlan | Redeemer | 1 Corinthians |
| Knowledge | Dr. Les Ollila | Relationships, Power, Fruit | 1 Corinthians |
| The Resurrection | Dr. Les Ollila | Resurrection, Evidence | 1 Corinthians |
| Laborers Together | Dr. Les Ollila | Unity, | 1 Corinthians |
| Act Like Men | Danny Whetstone | Victory, Faithfulness | 1 Corinthians |
| Dealing With Differences | Dr. Les Ollila | Paul, Unity | 1 Corinthians, Acts |
| Principles in Ministry Part 1 | Dr. Les Ollila | Principles, Convictions, Purpose | 1 Corinthians, Genesis |
| Principles in Ministry Part 2 | Dr. Les Ollila | Principles, Convictions, Purpose | 1 Corinthians, Genesis |
| Making Right Choices | Dr. Les Ollila | Focus, Flesh | 1 John |
| Love | Dr. Les Ollila | Relationship, Sacrifice | 1 John |
| The Happy Servant | Dr. Les Ollila | Contentment, Leadership | 1 Kings |
| The Happy Servant | Dr. Les Ollila | Solomon, Service | 1 Kings |
| 1 Peter Series | Dr. Doug McLachlan | Christ, Suffering, Faith, Salvation, Values | 1 Peter |
| Living Faithfully to Life's End | Dr. Les Ollila | Faithfulness | 1 Peter |
| Spirit Filled Men and Women Part 2 | Dr. Les Ollila | Marriage, Testimony | 1 Peter |
| Triumphant in Trials | Dr. Doug McLachlan | Persecution, Joy | 1 Peter |
| The Spirit-filled Wife | Dr. Les Ollila | Submission, Relationships | 1 Peter |
| Brokenness: The Way to Blessing | John Vaughn | Testimony, Trials | 1 Peter |
| Spirit Filled Men and Women Part 1 | Dr. Les Ollila | Marriage, Parenting, Relationships | 1 Peter, Genesis |
| Biblical Evangelism | Dr. Doug McLachlan | Evangelism, Gospel | 1 Peter, Matthew, 1 John |
| David's Shifting Confidence | Dr. Les Ollila | David, Unfaithfulness | 1 Samuel |
| How to Get Answers from Headquarters | Tom Farrell | Hannah, Prayer | 1 Samuel |
| The Life of David | Carson Fremont | David | 1 Samuel, Psalms |
| In Everything Give Thanks | Dr. Les Ollila | Prayer, Thankfulness | 1 Thessaloniains |
| 1 Thessalonians Series | Dr. Doug McLachlan | Church, Love, Hope, Faithfulness | 1 Thessalonians |
| Departing Grace | FG Homsher | Death, Paul | 1 Thessalonians |
| Manifesting a Life that Matters | Sam Horn | Family | 1 Thessalonians |
| The USA in Bible Prophecy | Steve Pettit | Prophecy, Judgment | 1 Thessalonians |
| Ready for the Rapture | John Goetsch | Salvation | 1 Thessalonians |
| The Body We Cherish | Doug McLachlan | Church | 1 Timothy |
| Saved or Lost | Jeff Redlin | Salvation, Enemy | 2 Chronicles |
| The Road to Revival | John Goetsch | Salvation, Prayer | 2 Chronicles |
| Gifted for the Ministry | Dr. Les Ollila | Discourament, Perseverance | 2 Corinthians |
| Taking the Message to the Regions Beyond | John O'Malley | Evangelism, Missions | 2 Corinthians |
| The Judgement Seat | Dr. Les Ollila | Incarnation, Death | 2 Corinthians |
| The Heart of Paul | Kevin Inafuku | Love | 2 Corinthians |
| The Grace of God is Sufficient | Dr. Les Ollila | Paul, Apostleship, Suffering | 2 Corinthians |
| Laboring to be Accepted Part 2 | Dr. Les Ollila | Paul, Motives, Sanctification | 2 Corinthians |
| Brokenness: The Promise | John Vaughn | Paul, Prayer, Discipleship | 2 Corinthians |
| Laboring to be Accepted Part 1 | Dr. Les Ollila | Paul, Salvation | 2 Corinthians |
| The Ministry of Paul | Dr. Les Ollila | Reconciliation, Motives | 2 Corinthians |
| The Most Important Decision You Will Ever Make | Tom Farrell | Salvation | 2 Corinthians |
| Spiritual Brokenness | Dr. Les Ollila | Santification, Discipleship | 2 Corinthians |
| A Consideration of The Subject of Reconciliation | Dr. Doug McLachlan | Seperation, Sin | 2 Corinthians |
| How to Produce a Biblical Worldview | Dr. Les Ollila | Worldview, Disciplship | 2 Corinthians |
| Living in Light of the Bema | Dr. Les Ollila | Judgment, Works | 2 Corinthians, 1 Corinthians |
| What Makes a Total Marriage | Dr. Les Ollila | Immorality, Commitment | 2 Corinthians, 1 Thessilonians |
| How to Pray for Missionaries | Dr. Les Ollila | Paul, Prayer, Encouragement | 2 Corinthians, Romans |
| View of God | Dr. Les Ollila | Salvation, Relationships | 2 Corinthians, Romans |
| Living On Eternity's Edge | Matt Recker | Elijah, Evangelism | 2 Kings |
| Life Touching Life | Dr. Les Ollila | Elisha, Discipleship | 2 Kings |
| Steps to Spiritual Maturity | Dr. Les Ollila | Change, Growth | 2 Peter |
| The Purpose of Youth Work | Dr. Les Ollila | Discipleship, Discipline | 2 Peter |
| The Life Which Honors God | Dr. Doug McLachlan | Power, Godliness, Promises | 2 Peter |
| 7 Marks of a Growing Family | Curt Lamansky | Sanctification, Family | 2 Peter |
| Bitterness - Shimei | Dr. Les Ollila | Authority, Choices, Jealousy | 2 Samuel |
| Is the Young Man Safe? | Jeremy Frazor | David, Consequences | 2 Samuel |
| 2 Timothy 3 | Dr. Doug McLachlan | Apostasy, Faithfulness | 2 Timothy |
| Being a Good Soldier | Dr. Les Ollila | Discipleship, Faithfulness | 2 Timothy |
| Four Marks of a Good Soldier | Mark Herbster | Discipleship, Spirit | 2 Timothy |
| Fear | Dr. Les Ollila | Paul, Timothy, encouragemnet | 2 Timothy |
| 2 Timothy 4 | Dr. Doug McLachlan | Preaching, Witnessing, Second Coming | 2 Timothy |
| Understanding Our Mission Part 2 | Dr. Les Ollila | Purpose, Discipleship | 2 Timothy |
| 2 Timothy 1 | Dr. Doug McLachlan | Salvation, Faith, Sanctification | 2 Timothy |
| Glory of the Word | Dr. Doug McLachlan | Scripture, Sacred | 2 Timothy |
| Them That Love His Appearing | Gary Anderson | Second Coming, Service | 2 Timothy |
| The Secure Leader | Dr. Les Ollila | Security | 2 Timothy |
| 2 Timothy 2 | Dr. Doug McLachlan | Servan, Steward, Sacrifice | 2 Timothy |
| Understanding Our Mission Part 1 | Dr. Les Ollila | Stewardship, Purpose | 2 Timothy |
| Added to the Church | John Goetsch | Church, Discipleship | Acts |
| The Church | Dr. Les Ollila | Church, Ordinances, Doctrine | Acts |
| The Greatest Exercise of Your Soul Part 1 | Tom Farrell | Conscience, Godliness | Acts |
| The Greatest Exercise of Your Soul Part 2 | Tom Farrell | Conscience, Godliness | Acts |
| Grow Up | Jeremy Frazor | Discipleship, Church | Acts |
| Missions | Danny Whetstone | Evangelism, Missions | Acts |
| A Cry for Help | Danny Whetstone | Evangelism, Missions | Acts |
| The Great Prediction | JD Crowley | Evangelism, Missions | Acts |
| Terrorists, Traitors and Triumphs Part 1 | FG Homsher | Evangelism, Persecution | Acts |
| Terrorists, Traitors and Triumphs Part 2 | FG Homsher | Evangelism, Persecution | Acts |
| God Doesn't Waste Seed | Danny Whetstone | Evangelism, Spirit | Acts |
| Philip the Soul Winner | Dr. Les Ollila | Evangelism, Surrender, Transformation | Acts |
| Missionary Mandate | Dr. Doug McLachlan | Faith, Salvation | Acts |
| Acts 3 | Dr. Les Ollila | Holiness, Justification | Acts |
| Rescue of Two Prisoners | FG Homsher | Ministry, Salvation | Acts |
| Perservering Through Difficulties | Dr. Les Ollila | Missions, Discouragement, Evangelism | Acts |
| Storms | Dr. Les Ollila | Paul, Providence, Trust | Acts |
| Adding to Your Faith | Dr. Les Ollila | Purpose, Motivation | Acts |
| Jesus Christ | Dr. Les Ollila | Salvation, Holiness | Acts |
| The Only Way of Salvation | Dr. Les Ollila | Salvation, Power | Acts |
| The Uniqueness of Christ | Dr. Les Ollila | Salvation, Wolrdview | Acts |
| Barnabas the Encourager | Danny Whetstone | Unity, Encouragement | Acts |
| The Return of the Lord | Jerry Sivnksty | Promise, Eternity | Acts, 1 Corinthians |
| Message of Baptism | Dr. Doug McLachlan | Baptism | Colossians |
| Prayer | Dr. Les Ollila | Prayer, Friendship, Paul | Colossians |
| God's Transforming Power | Mark Zimmer | Salvation | Colossians |
| Gearing Up for Service | Mark Zimmer | Servanthood | Colossians |
| Portrait of Courage | Jeff Kahl | Courage, Faith | Daniel |
| God On Trial | Dave Doran | Pride, Trials | Daniel |
| How to Make a Great Family | Jeff Kahl | Priorities, Knowledge | Deuteronomy |
| So Man Could Find Him | John O'Malley | Salvation | Ecclesiastes |
| Don't Waste Your Life | Will Galkin | Youth, Remember | Ecclesiastes |
| Handling the Past Biblically | Dr. Larry Oats | Blessings, Paul | Ephesians |
| The Key to Maximum Christian Living | Tom Farrell | Discipleship, Holy Spirit | Ephesians |
| How to Change God's Way | Jeremy Frazor | Discipleship, Sin | Ephesians |
| Be Imitators of God | Sam Horn | Evangelism, Mission | Ephesians |
| Having A Christian Perspective | Dr. Les Ollila | Focus, Trinity, Glory, Power | Ephesians |
| Growing the Church in Christ | Dr. Les Ollila | Glory, Gospel, Prayer | Ephesians |
| God's Power in Our Lives | Dr. Les Ollila | Gospel, Santification | Ephesians |
| Ephesians Series | Dr. Doug McLachlan | Grace, Redemption | Ephesians |
| Sword of the Spirit | FG Homsher | Holy Spirit | Ephesians |
| Build a Spirit -Driven Life | Sam Horn | Holy Spirit, Discipleship | Ephesians |
| The Spirit of Marriage | Dr. Les Ollila | Marriage, Unity, Submission | Ephesians |
| The Greatness of Our God | Dr. Les Ollila | Power, Prayer, Paul | Ephesians |
| The Power of God | Dr. Les Ollila | Prayer, Power | Ephesians |
| Realizing Our Riches | Dr. Doug McLachlan | Prayer, Unity | Ephesians |
| Rules for Relationships | Steve Pettit | Relationships, Salvation | Ephesians |
| How Then Shall We Not Live? | Steve Pettit | Salvation, Worldliness | Ephesians |
| Think on These Things | Dr. Les Ollila | Power, Reserection, Church | Ephesians, 1 Corinthians |
| Sold for Him | Aaron Coffey | Moses, Obedience | Exodus |
| Brokenness: The Process | John Vaughn | Moses, Surrender | Exodus |
| Dealing With Despair | Carson Fremont | Moses, Paul | Exodus, Numbers |
| Music | Dr. Les Ollila | Deference, Worship | Ezekiel, Daniel |
| The Freshness of Fellowship | Dr. Les Ollila | Compromise, Repentance, Pride | Ezra |
| Six Words that Will Change Your Life | Tom Farrell | Glory, Worship | Galatians |
| Standing in Grace | Mark Kittrell | Grace, Faith, Freedom | Galatians |
| No Other Gospel | Dr. Les Ollila | Grace, Works | Galatians |
| The Result of Motive | Dr. Les Ollila | Paul, Attitude | Galatians |
| The Fruit of the Spirit | Dr. Les Ollila | Power, Works | Galatians |
| In the Fullness of Time | Dr. Doug McLachlan | Redemption, Salvation | Galatians |
| Thanksgiving in Trials | Dr. Les Ollila | Praise, Testing, Sanctification | Galatians, Ephesians |
| The Life of Faith | Dr. Les Ollila | Abraham, Sacrifice, Following | Genesis |
| 5 Keys to Communication | Dr. Les Ollila | Communication, Relationships, Marriage | Genesis |
| What is God Like | Will Galkin | Creator, Justice | Genesis |
| God's Quest | Danny Whetstone | Discipleship, Evangelism , Missions | Genesis |
| When You Get to Heaven | John Vaughn | Evangelism, Lot | Genesis |
| Abraham: the Path To Faith | Dr. Les Ollila | Faith, Obedience | Genesis |
| Trusting God When it Hurts | Will Galkin | Faithfulness, Obedience | Genesis |
| 4 Great Seperations | Dr. Doug McLachlan | Fall, Salvation | Genesis |
| How Does A Dream Become Reality | Dr. Les Ollila | Joseph, Contentment | Genesis |
| Living Your Dream | Dr. Les Ollila | Joseph, Conviction, Faithfulness | Genesis |
| Brokenness: The Portrait | John Vaughn | Joseph, Service | Genesis |
| Joseph's Dream | Dr. Les Ollila | Joseph, Surrender | Genesis |
| Lessons from a Caveman | Dr. Les Ollila | Lot, Compromise, Character | Genesis |
| Lessons From Lot | Dr. Les Ollila | Lot, Worldliness | Genesis |
| Tools That Build Relationships | Dr. Les Ollila | Marriage | Genesis |
| Marriage in Genesis | Dr. Les Ollila | Marriage, Love, Relationships | Genesis |
| What Matters Most | Dr. Les Ollila | Priorities, Relationships | Genesis |
| Grace and Government of God | Dr. Doug McLachlan | Redemption | Genesis |
| The Household of Faith | Dr. Les Ollila | Relationships | Genesis |
| The Glory of God in Us | Dr. Les Ollila | Relationships, Fall, Creation | Genesis |
| Living With Afterward in Mind | Dr. Les Ollila | Repentance, Esau, Bitterness | Genesis |
| Formation of a Fallen Culture | Dr. Doug McLachlan | Sin, Seperation | Genesis |
| Raising Children With Conviction | Dr. Les Ollila | Training, Discipline | Genesis |
| Joseph | Dr. Doug McLachlan | Trials, Faithfulness | Genesis |
| Biblical Separation | Dr. Les Ollila | Separation, Obedience | Genesis, 1 Corinthians |
| Biblical Manhood | Dr. Les Ollila | Worldview, Evolution | Genesis, Daniel |
| Blessings In Protection | Dr. Les Ollila | Obedience, Judgment | Genesis, Deuturonomy, Amos |
| The Spirit Filled Family | Dr. Les Ollila | Relationships, Growth, Roles | Genesis, Ephesians |
| Embrace Your Mission | Dr. Les Ollila | Idolatry, Glory, Holiness | Genesis, Ezekial, John |
| Knowing God | Dr. Les Ollila | Compassion, Motives, Theology | Genesis, Jeremiah |
| Will You Live by Faith? | Aaron Coffey | Faith | Habakkuk |
| Habakkuk | Dr. Les Ollila | Prayer, Sovereignty | Habakkuk |
| Obey God by Obeying Authorities | Mark Herbster | Authority, Obedience | Hebrews |
| Our Real and Present Danger | Steve Pettit | Discipleship, Discouragement | Hebrews |
| Final Warning | Steve Pettit | Discipleship, Obedience | Hebrews |
| Reflections On His Sufferings | Dr. Doug McLachlan | Discouragement, Faithfulness | Hebrews |
| Winning the Race | Dr. Les Ollila | Endurance, Discipline | Hebrews |
| The Essence of Faith | Dr. Les Ollila | Enoch, Faithfulness, Lifestyle | Hebrews |
| Afterward: The Life of Esau | Dr. Les Ollila | Esau, Repentance | Hebrews |
| Balance in the Christian Life | Dr. Les Ollila | Faith, Israel | Hebrews |
| Preparing for the Future by Dealing with the Past | FG Homsher | Forgiveness, Judgement | Hebrews |
| The Great Works of Christ on our Behalf | Dr. Doug McLachlan | Redemption, Sacrifice | Hebrews |
| The Great Deliverance | Dr. Doug McLachlan | Redemption, Salvation | Hebrews |
| The Supreme Revelation | Dr. Doug McLachlan | Revelation, Christ | Hebrews |
| The Blood of Jesus Christ | Dr. Doug McLachlan | Sacrifice, Forgiveness | Hebrews |
| Don't Underestimate the Power of Sin | Ron DeGarde | Worldliness, Exhortation | Hebrews |
| Heart Surgery | Mike Herbster | Sin, Surrender, Obedience | Hebrews, Joshua |
| Staying Faithful | Dr. Les Ollila | Focus, Humility, Repentance | Hosea |
| Minor Prophets with a Major Message | FG Homsher | Mercy, Redemption, Salvation | Hosea |
| The Value of God's Word | Ron DeGarde | Bible, Doctrine | II Timothy |
| What is Truth? | John Goetsch | Bible, Truth | Isaiah |
| Taste and See that God is Good Enough for You | Aaron Coffey | Light, Salvation | Isaiah |
| His Name Is | Dr. Doug McLachlan | Sufficiency, Christ | Isaiah |
| The Power of Prayer Part 2 | Jim Tillotson | Prayer, Hindrances | Isaiah, Proverbs |
| The Danger of Aloneness | Dr. Les Ollila | Accountibility, Integrity | James |
| Three Enemies We Fight Against | Mike Herbster | Lust, Sin, Worldliness | James |
| Demolishing Strongholds | FG Homsher | Obedience, Sin, Strongholds | James |
| The Three Powers of the Tongue | Dr. Les Ollila | Obedience, Speech | James |
| Let Patience Have Her Perfect Work | John Vaughn | Patience | James |
| A Single Focus | Dr. Les Ollila | Stability | James |
| The True Wisdom and the False Wisdom | Dr. Doug McLachlan | Wisdom | James |
| The Potter's House | Dr. Les Ollila | Obedience, Omnipotent | Jeremiah |
| Powerful Prayer | Ron DeGarde | Promise, Prayer | Jeremiah |
| Security in Your View of God | Dr. Les Ollila | Assurance, Salvation | John |
| The Crucifixion | Dr. Les Ollila | Crucifixion | John |
| Brokenness: The Principle | John Vaughn | Crucifixion, Sacrifice | John |
| Imitating Jesus Christ | Doug McLachlan | Discipleship | John |
| Following Jesus Christ: His Extraordinary Being | Doug McLachlan | Discipleship, Grace | John |
| Witnessing Like Jesus | Jeremy Frazor | Evangelism | John |
| Following Jesus Christ: An Extraordinary Privilege | Doug McLachlan | Evengelism | John |
| Jesus is the Key | Mark Herbster | Faith, Salvation | John |
| Inexhaustible Christ | Dr. Doug McLachlan | Grace, Truth | John |
| Following Jesus Christ: His Being | Doug McLachlan | Light, Power, Discipleship | John |
| The Shape of God's Love | Doug McLachlan | Love, Salvation | John |
| Pruning the Vine | Mark Kittrell | Obedience, Example | John |
| The Power of Prayer Part 1 | Jim Tillotson | Prayer, Hindrances | John |
| Embracing Your Mission Part 2 | Dr. Les Ollila | Sacrifice, Santification | John |
| Radiance of God's Love | Dr. Doug McLachlan | Salvation, Belief | John |
| The Believers Relation to the World Part 2 | Dr. Les Ollila | Salvation, Prayer, Light | John |
| The Believers Relation to the World Part 1 | Dr. Les Ollila | Salvation, Witnessing, Sactification | John |
| Assurance of Salvation | Dr. Les Ollila | Security | John |
| Embracing Your Mission Part 1 | Dr. Les Ollila | Trinity, Glory | John |
| JesusChrist the Supreme Wonder | Dr. Doug McLachlan | Witnessing, Seeking | John |
| Give God Your Life | Ron DeGarde | Glory, Repentance, Forgiveness | Jonah |
| The Presence of God | Dr. Les Ollila | Omnipresence | Jonah |
| Devastating Consequences of Hidden Sin | Dr. Les Ollila | Disobedience, Repentance | Joshua |
| Guaranteed Success | Jeremy Frazor | Faithfulness, Obedience | Joshua |
| Life Lessons from a Dead Loser | Jeremy Frazor | Sin, Judgment | Joshua |
| The Story of Gideon | Dr. Les Ollila | Courage, Forgetful, Mind | Judges |
| Samson: The Cost of a Haircut | Dr. Les Ollila | Disobedience | Judges |
| Two Questions of Life | Dr. Les Ollila | Gideon, Obedience, Faith | Judges |
| Cry of Blindness | Mark Zimmer | Bartimaeus, Blindness, Helpless | Luke |
| Love's Ultimate Expression | Dr. Doug McLachlan | Death, Christ | Luke |
| Living in Balance | Dr. Les Ollila | Discipleship | Luke |
| To Follow Christ | Will Galkin | Discipleship, Obedience | Luke |
| True Discipleship | Dr. Les Ollila | Discipline, Sacrifice | Luke |
| Be An Encourager | Dr. Les Ollila | Encouragement, Communication | Luke |
| A Forever Fix | Dr. Marty Von | Eternity, Perspective | Luke |
| Launch Into the Deep | Danny Whetstone | Faith, Obedience | Luke |
| Rarity of Gratitude | Dr. Doug McLachlan | Healing, Thankfulness | Luke |
| Why We Are Here | Dr. Les Ollila | Hell, Salvation | Luke |
| Christ's Redemptive Ministry | Dr. Doug McLachlan | Holy Spirit, Deliverance | Luke |
| The Holy Spirit in the Christmas Story | Dr. Les Ollila, Chris Harper | Incarnation, John | Luke |
| No Regret Living | Sam Horn | Obedience | Luke |
| Four Who are Lost | Jeff Fain | Obedience, Evangelism | Luke |
| Living in Broken Ground | Dr. Les Ollila | Parrable, Sower | Luke |
| What is Real Salvation? | Jeremy Frazor | Salvation | Luke |
| Won't You Be My Neighbor? | John O'Malley | Samaritan, Compassion | Luke |
| Business Lessons from the Unjust Steward | Dr. Les Ollila | Stewardship, Money | Luke |
| Ingratitude: The Most Graceless of All Sins | Dr. Doug McLachlan | Thankfulness, Humility | Luke |
| Business Lessons from the Unjust Steward | Les Ollila | Values, Finances | Luke |
| Victory Over Injustice | Jeff Kahl | Victory | Luke |
| Critical Thinking | Dr. Les Ollila | Prayer | Luke, 2 Peter |
| You Cannot Be My Disciple | Dr. Les Ollila | Discipleship | Luke, John |
| Living Sacrifice Part 2 | Mark Kittrell | Honor, Love, Sacrifice | Malachi |
| Living Sacrifice Part 1 | Mark Kittrell | Name, Love, Sacrifice | Malachi |
| The Value of a Soul | John Goetsch | Death, Salvation | Mark |
| The Master Key | Jeremy Frazor | Discipleship | Mark |
| Break the Box | Kurt Skelly | Discipleship, Servanthood | Mark |
| The Maniac of Gadara | Dr. Les Ollila | Salvation, Transformation | Mark |
| Fear Factor | Aaron Coffey | Fear, Disobedience | Mark, 1 Samuel |
| Two Days to Live | JD Crowley | Money, Heaven, Evangelism | Mathew |
| The Beatitudes | Dr. Doug McLachlan | Blessing, Joy, Jesus | Matthew |
| Having Good Courage | Dr. Les Ollila | Compassion, Disciples | Matthew |
| The Danger of Unforgiveness | Jeff Kahl | Conflict, Forgiveness, Relationships | Matthew |
| The Things He Values | John O'Malley | Crucifixion, Church | Matthew |
| Treasure in Heaven | Gary Crandall | Discipleship, Heaven | Matthew |
| Laborers in the Harvest | Will Galkin | Evangelism, Love | Matthew |
| Take My Yoke | Danny Whetstone | Faith, Salvation | Matthew |
| Worship in Your Life | Dr. Les Ollila | Idols, Ministry, Priorities, Surrender | Matthew |
| The Three Threes of the Christmas Story | Dr. Les Ollila, Chris Harper | Incarnation, Worship | Matthew |
| The Greatest Passion of Life | Will Galkin | Love, Time | Matthew |
| Brokenness: The Purpose | John Vaughn | Peter, Strength, Weakness | Matthew |
| Seeking God First | Bruce McCallister | Priorities, Worldliness | Matthew |
| A Great and Glorious Invitation | Dr. Doug McLachlan | Rest, Salvation | Matthew |
| Remember Your Story | Jim Newcomer | Salvation, Testimony | Matthew |
| The Church's Responsibility Part 1 | Jim Tillotson | Service | Matthew |
| How to Handle Temptation | Jerry Sivnksty | Sin, Scripture | Matthew |
| Salt and Light | Dalton Heath | Testimony, Example | Matthew |
| Ye Are the Salt of the Earth | Dr. Doug McLachlan | Witness, Influence | Matthew |
| The Church's Responsibility Part 2 | Jim Tillotson | Witnessing, Service | Matthew |
| Good Advice for Bad Times | Sam Horn | Worry | Matthew |
| Faithful in Small Things | Mark Zimmer | Testimony, Faithfulness | Matthew, Ephesians |
| The Cup You Didn't Drink | Mark Kittrell | Communion | Matthew, Luke |
| Hell | Jeremy Frazor | Judgment, Hell | Matthew, Luke |
| Words From the Cross | Dr. Doug McLachlan | Crucifixion, Resurrection, Love | Matthew, Luke John |
| Revival | Dr. Les Ollila | Obedience, Ezra, Heart | Nehemiah |
| A Fire for God | Jeff Redlin | Work, Service | Nehemiah |
| The Importance of God's Word | Dr. Les Ollila | Scripture, Ezra, Preaching | Nehemiah, Ezra |
| Anger | Les Ollila | Anger, Moses | Numbers |
| Missions and Spiritism | JD Crowley | Cults, Balaam | Numbers |
| Lesson On Anger Part 2 | Dr. Les Ollila | Impatience, Relationships, Focus | Numbers |
| Lesson On Anger Part 1 | Dr. Les Ollila | Relationships, Wrath | Numbers |
| A Good Legacy Does Not Guarantee a Good Future | Dr. Les Ollila | Ephriam, Compromise | Paslms |
| God's Guidance | Dr. Les Ollila | Peter, Confidence | Philipians |
| Where Your Confidence Lies | Dr. Les Ollila | Paul, Following Calling | Philipians, 1 Corinthians |
| Doing All Through Christ | Dr. Les Ollila | Stephen, Purpose, Paul | Philipians, Acts |
| Trusting God | John Zimmer | Faith | Philippians |
| The Joy of the Christian | Dr. Doug McLachlan | Joy | Philippians |
| Sanctifying Obedience | Steve Pettit | Obedience, Salvation, Sanctification | Philippians |
| Potential for Authentic Christianity | Dr. Doug McLachlan | Salvation, Indwelling | Philippians |
| Service | Dr. Les Ollila | Work, Faith | Philippians, 1 Thessalonians |
| Wisdom for the Family | Jeff Kahl | Family | Proverbs |
| Integrity | John Vaughn | Honesty, Pride | Proverbs |
| Be a Real Christian | Mark Herbster | Hypocrisy | Proverbs |
| How to Reach Your Potential | Jeff Kahl | Obedience, Authority | Proverbs |
| Three Types Who Reject Wisdom | Dr. Les Ollila | Wisdom, Foolishness | Proverbs |
| The Four Necessary Ingredients for Life | Dr. Les Ollila | Wisdom, Knowledge, Understanding | Proverbs |
| Work Ethic | David Daniel | Work | Proverbs |
| An Uplook For the Downcast | Dr. Les Ollila | Focus, David, Meditation | Psalm |
| Man'a Malady and God's Mercy | Dr. Doug McLachlan | Forgiveness, Compassion, Mercy | Psalm |
| God Knows You | Will Galkin | Prayer, Discipleship | Psalm |
| Quicken Me O Lord | Will Galkin | Salvation | Psalm |
| Fresh Oil | Steve Pettit | Spirit, Faithfulness | Psalm |
| A Little Thing that Makes a Big Difference | Tom Farrell | Attitude, Focus | Psalm, Proverbs |
| Where Did the Hating Go? | Bob Jones III | Evil,Sin | Psalm, Proverbs |
| Rich in God's Blessing | Joe Henson | Sin, Confession | Psalm, Proverbs |
| From Theocracy to Atheism | Dr. Les Ollila | Theism, Compromise, Atheism | Psalms |
| Focusing Our Attention Outward | Dr. Les Ollila | Asaph, Depression | Psalms |
| Finding Satisfaction in Christ | Dr. Les Ollila | Asaph, Disobedience, Perseverence | Psalms |
| When Normal is Gone | Dr. Les Ollila | Aspah, Depression, Focus | Psalms |
| The Successful Servant | Dr. Les Ollila | Blessedness, Worldliness | Psalms |
| The Cowardly Ephraimites | Dr. Les Ollila | Carnality, Faithfulness, Obedience | Psalms |
| Marks of Godliness | Dr. Doug McLachlan | Character, Salvation | Psalms |
| Covenants for the Leader | Dr. Les Ollila | David, Will, Noah | Psalms |
| Dealing with Discouragement | Dr. Les Ollila | Discouragement, Focus, Selishness | Psalms |
| Surrender and Separation | Dr. Les Ollila | Envy, Faithfulness | Psalms |
| Teaching Teens Prayer | Dr. Les Ollila | Faithfulness, Youth | Psalms |
| The Blessable Servant | Dr. Les Ollila | Godliness Fool | Psalms |
| Man God Uses | Dr. Doug McLachlan | Godliness, Blessing | Psalms |
| Psalm 23 Series | Dr. Doug Mclachlan | Guidance, Care | Psalms |
| Psalm of Joy | Dr. Doug McLachlan | Praise, Thanks | Psalms |
| Psalm 145 | Dr. Doug McLachlan | Salvation, Praise, Daivd | Psalms |
| Potency of God's Word | Dr. Doug McLachlan | Scripture, Obedience, Truth | Psalms |
| Source of Music | Dr. Doug McLachlan | Worship, Relationship | Psalms |
| True Greatness | Dr. Les Ollila | Faithfulness, Contentment | Psalms, Acts |
| Directing Your Time | Dr. Les Ollila | Priorities | Pslams |
| The City of God Part 1 | Steve Pettit | Heaven | Revelation |
| The City of God Part 2 | Steve Pettit | Heaven | Revelation |
| When Everything Looks All Right, But Everything is All Wrong | Ron DeGarde | Obedience, Testimony | Revelation |
| Revelation Churches Series | Dr. Doug Mclachlan | Worldliness, Sactification | Revelation |
| The Cost of Being a Christian | Jeff Kahl | Discipleship | Romans |
| Following Jesus Christ - His Sacrifice | Doug McLachlan | Discipleship, Godliness | Romans |
| The Romans Road is Not the Romans Road | JD Crowley | Evangelism | Romans |
| Having an Urban Burden | Matt Recker | Evangelism, Thankfulness | Romans |
| Whosoever and They | Danny Whetstone | Faith, Salvation | Romans |
| Applied Christianity | Dr. Doug McLachlan | Faithfulness, Service | Romans |
| World Views Part 2 | Dr. Les Ollila | Idols, Theism | Romans |
| Amazing Grace | Steve Pettit | Justification,Salvation | Romans |
| Portrait of Consecration | Dr. Doug McLachlan | Love, Dedication | Romans |
| Christians in Today's Culture | Dr. Les Ollila | Paul, Discipleship, accountability | Romans |
| Absolute Justification | Dr. Doug McLachlan | Redemption | Romans |
| Great Marks of Secutiry | Dr. Doug McLachlan | Sactification, Relationship, Hope | Romans |
| Salvation in a Savior | Joe Baldwin | Salvation | Romans |
| The World's Greatest Need | Phil Hunt | Salvation | Romans |
| Radically Changed | Mark Zimmer | Salvation, Paul, Israel | Romans |
| Discovering God's Will | Steve Pettit | Surrender, Discipleship | Romans |
| Two Ways to Live | JD Crowley | Testimony, Rebellion | Romans |
| Wake Up and Die Right | Dr. Les Ollila | Thinking, Eternity | Romans |
| World Views Part 1 | Dr. Les Ollila | Truth. Humanism | Romans |
| Divisions | Lucus Counterman | Unity,Essentials | Romans |
| The Christian Perspective on War | Dr. Les Ollila | War, Government, Daniel | Romans |
| No Doubt | Dr. Les Ollila | Judgment, Paul | Romans, Revelation |
| Bitterness - Ruth | Dr. Les Ollila | Naomi, Bitterness | Ruth |
| The Glory of God's Grace | Dr. Doug McLachlan | Encouragement, Redemption | Titus |
| The Believer and Redeeming Faith | Leonard Saunders | Obedience, Faithfulness, Salvation | Titus |
| Abundance of Life | Dr. Doug McLachlan | sinfulness, goodness, fruitfulness | Titus |
| Wounds of Christ | John Goetsch | Crucifixion | Zechariah |